Oh hi there friends :) Just stopping by for a quick WIAW post before I post a new recipe later this evening. I hope you're having a fantastic Wednesday - welcome new readers! If you're new around here, you can find all my recipes and favorite posts using the tabs at the top of the page. And now.. let's bring on
What I Ate Wednesday
(also known as Whatever Wednesday to be explained in my next post cause I'm feeling kinda crabbyyy) Enjoy!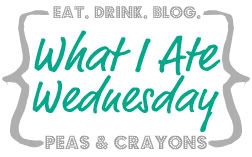 PS: Don't forget to click the link at the top to check out what other bloggers are eating on Wednesday too!
So, I started off the day the way I always do - coffee + unsweetened almond milk - because let's get real, I always need coffee at 6:00 am. I have a
Tassimo
that I worship and it's perfect for mornings when I don't have time to brew a whole big batch...
Next up, my favorite breakfast... a gluten-free multigrain English muffin, topped with muenster cheese and an egg...oh and raspberries which I ate at my desk at work while I worked on screening patients for the day.
Anddd I totally forgot to take a picture of my lunch. Sorry, but in my defense I was outside, without my iphone on a beautiful May day and had been seeing patients all morning. Can you blame me for not wanting to walk all the back inside with my food? Next week, I'll try harder to remember :) I tried to re-create in the comfort of my own kitchen.... 2 slices of gluten-free pizza topped with spinach, black olives and tomatoes with a side of baby carrots - err except the slice in this picture looks itty bitty but I swear they weren't.
Now, onto snack one of the afternoon. Gluten-free pretzels, sunflower seeds and a few random chocolate chips.
After driving for 50 minutes and walking around the store looking for new sunglasses, I was hungry so I broke out my apple and paired it with a string cheese. One of my all time favorite snacks for sure.
Next up was dinner.... I made this incredible quinoa cakes, paired them with a side of broccoli and fat-free sour cream.
Catch you later with the recipe for the quinoa cakes!
What was your favorite thing that you ate this Wednesday?