Hellllllooooo there loves! Happy Wednesday :) Today was a little crazy for me, because I went on a mini-road trip. In short, I drove to Indianapolis today to attend a presentation on the culture of healthcare for IU Health - which means I spent over 4 hours of today in the car. I applied for a position at their children's hospital - I've always wanted to work in pediatrics eventually and earn the Certified Specialist in Pediatric Nutrition (CSP) certification for RD's. I loved the atmosphere at the presentation and their stance on changing the face of healthcare. I'm definitely feeling optimistic about all of the positions I've applied for... and I believe that the right thing will work out for me at the right time. I just can't wait to see what that is!
I started today with another protein waffle - I am totally obsessed with my waffle iron and adding protein powder to the batter! I'm a creature of habit when it comes to breakfast, so I can guarantee I'll be making waffles probably everyday for the next week. This means lots of new waffle recipes for you to look forward to! After that, I squeezed in a Core Fusion Pilates Plus workout, made a quick trip to Kroger and started getting ready for my big drive! When I returned home, I was so hungry - so I re-heated soup from the freezer and made a big salad...and a mini chocolate cake :) The perfect Wednesday, which could have included more fruits and veggies ::sigh:: but I'm a realist and I know it happens :) Okay, okay, time for the glorious waffle recipe... and for WIAW!!!
Pin It
Cinnamon Sugar Protein Waffle
Ingredients
2 tbsp Bob's Red Mill All-Purpose gluten-free flour
1 tbsp vanilla protein powder
1 tbsp almond flour
1 tbsp flax seed, ground
1/4 tsp baking powder
1/2 packet stevia
1/4 tsp cinnamon
1/4 cup milk + 2 tbsp
1/2 tsp vanilla
3/4 tsp canola oil
1. Combine dry ingredients in small bowl. Set aside.
2. Add 1/4 cup milk, vanilla and canola oil to dry mixture. Set aside ~15 minutes.
3. Stir mixture - it will have thickened - add remaining 2 tbsp of oil.
4. Spray waffle iron with non-stick spray, pour in batter, cook for ~3 minutes or according to your waffle maker directions.
And now onto my favorite part of the week.... What I Ate Wednesday :)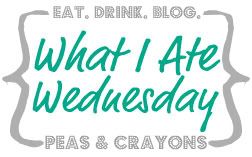 Cinnamon Protein Waffle with Grapes :)








Veggie Sandwich-Hummus, Tomatoes, 2% Cheese, Avocado, Lettuce & A Few Sweet Potato Fries!
Standard
Huge Salad :) LOVE!
Broccoli Soup (See last weeks WIAW for recipe!)