Hi everyone! I hope you're having a magnificent Wednesday. Today, I made a mini trip to the grocery, applied for another full-time job.. cross your fingers for me, taught an "Ask the RD" class and snuck in a quick workout. I came home to my DVR, where I've been catching up on my favorite shows that I missed while in Hawaii - is anyone else as obsessed with
Revenge
as I am?!? It leaves me in my seat week after week, but sadly I just don't see how it is going to go on forever :( I mean, how many people are there that she can take down? However, the writers have already been so creative that I can't even begin to imagine what they have in store next.
Tomorrow, I'm taking my first class at
Pure Barre
! I bought a Groupon for 6 classes a few months ago :) I called today to sign up for my first class and was told that I get an additional class for free - I am overjoyed. When I was a graduate student, my campus gym offered a barre sculpt class that was seriously incredible. Unfortunately, Pure Barre classes are way out of my price range right now - especially since I'm still hunting around for a full-time job. Maybe someday.... In the meantime, I'll have to get my barre fix from the millions of Core Fusion DVD's that I own :)
Yesterday, I blogged about "
the challenge
"
aka. Lindsay eats her way through her fully stocked freezer
and I must say, so far so good. Today, I took a trip to Kroger because the lack of fresh fruit and vegetables wasn't going to work for me. Plus, I just came back from Hawaii where I was eating avocados everyday... so you can see below what went into my cart.
All for a grand total of $8.38!! Now, you'll see iceburg lettuce there - obviously, that's not the most nutritious choice and I normally buy organic spinach (which I have a ton of in my freezer) but it was $0.89. Grapes were on sale for $0.99 a pound, tomatoes on the vine were only $1.49 a pound and avocados were $0.99. I've been dying to try the spicy Alexia fries and I had a $1.00 off coupon from their website - there are 7 servings in a bag, but I expect to get 14... I only need 15 french fries there is no way that I need 30! I normally read ads and cut coupons before I go to the store, but I must admit that I'm not always super diligent about it. This is definitely something that has to change in 2012.... and now for the first time ever, I'll be sharing what I ate Wednesday :) I've seen this on other blogs before and never knew how to take part, it was started by
Peas & Crayons
and you can find more info on how your blog can participate
here
:) Now enjoy my first WIAW!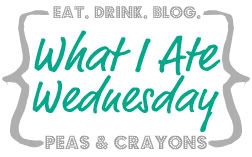 Not exactly my best breakfast... but at least that hash brown was from TJ's ;)
Salad with tomatoes, onion, walnuts, kalamata olives and LF balsamic




Veggie burger with avocado and baked sweet potato fries :)
Trader Joe's trail mix
Corn pasta from TJ's with edamame and Rao's Marinara




Super easy baked apple :) Core the apple, add 1/2 tsp brown sugar, 1/2 tsp light margarine & cinnamon
Mini chocolate peanut butter cookie...I couldn't resist
That's all for today :) See you tomorrow when I'm super sore from Pure Barre... I can't wait!!!
How was your Wednesday?