Hi again! I hope you enjoyed my earlier post on the
microwave ramekin cake
. I'm tempted to make my way into the kitchen to make another one. Today was one of those days that just flies by! I started off my day with a client meeting... only the client didn't show up :( So, I went home, picked up my Bed, Bath & Beyond coupons and made a few baking related purchases - more on that later.
After my BB&B trip and stopping by Whole Foods to pick up a few necessities (not to mention I got chocolate chips for 20 cents), it was back home to broccoli cheddar soup. It was so cold today it was almost unbearable - the perfect soup weather. This was my first time making broccoli soup and I must say it was a success! I say that about everything I feel like, but mainly because I never show you my absolute kitchen disasters. I cannot cook salmon at all - every time it is one huge failure - so if you have salmon tips send them my way. I am begging you.
Instead of my usual afternoon job hunt, I realized I was starting to get a migraine, so I took a short nap on the couch and drank some green tea. Luckily, this was enough to send it into submission. Before going gluten-free, none of my tactics worked to send my migraines packing. A few hours later, I attempted to go to Pilates, but the class was canceled so instead I went to Trader Joe's :) Priorities right? I stocked up on gluten-free granola, greek yogurt, dark chocolate, dried mango, herbed goat cheese and banana chips. Now, I'm going to go relax on the couch in my pj's... which means it's on to....
What I Ate Wednesday
!!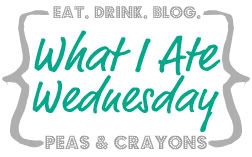 Green tea with breakfast :) Always.
Food for Life Multi Seed English Muffin with Egg & 2% Cheddar and Grapes
Chocolate Chip Cookie Dough Larabar
Salad :)
Broccoli Cheese Soup!!! See recipe below :)
2 Trader Joe's Dark Chocolate Squares
Blurry Raisins :)
I *might* have a piece of dark chocolate later... we'll see :) Onto the soup! Before I was gluten-free, I used to love broccoli cheddar soup from Panera Bread. Unfortunately, it's not gluten-free, so I won't be having it anytime soon, unless Panera decides to get more gluten-free friendly. I've been looking for a broccoli cheese soup and I finally found on that seemed acceptable - I modified a few things to make it gluten-friendly and then lots of other things to make it better in general. The recipe I modified used Velveeta - ick! Now, I must warn you, this isn't like Panera's soup....but it's better. It's not as rich, but it's thicker and creamier.. not to mention loaded with broccoli!
Broccoli Cheese Soup
inspired by
Cooking Light
Ingredients
1 tsp olive oil
1 cup onion, chopped
1 tsp garlic, minced
3 cups vegetable broth
1 16-oz package frozen broccoli florets
2.5 cups low-fat milk
1/3 cup brown rice flour
1/4 tsp black pepper
1/8 tsp salt
1 tsp dry ground mustard
8 ounces shredded 2% cheese
1. Heat olive oil in a medium-large saucepan over medium heat - add onion & garlic, saute until tender.
2. Add vegetable broth and broccoli florets to saucepan, bring to a boil. Boil for 6 minutes, then reduce heat to medium low and continue cooking for 6 more minutes.
3. Pour half of the broccoli mixture into a blender, puree until smooth. Add back to original mixture
4. Add flour to milk, stirring to lightly combine. Add milk mixture to broccoli mixture and continue stirring until mixture thickens, about 5 minuets.
5. Whisk in black pepper, salt and dry ground mustard.
6. Stir in cheese until melted.
7. Pour into your favorite bowls and devour - this recipe makes ~5-6 servings.
Have a great evening, see you tomorrow!
What's your favorite kind of soup?